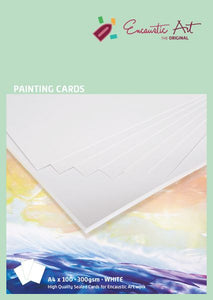 Encaustic Art Painting Cards: A4 White x 100
The Encaustic Art painting card is made for encaustic art application and designed to allow re-working of the wax block colours with the iron at any future time. The surface is semi-gloss and sealed on both sides. 
Wax sits on the surface of the encaustic art painting card allowing re-working at any future time.  (300gms)
A4 = 210mm x 297mm or approx. 8" x 11.5"